Open houses are a great opportunity to show off your home and generate interest from potential buyers. But in order to make your open house successful, you need to promote it effectively.
One of the best ways to do this is with a well-designed open house flyer. A good open house flyer will catch the eye of prospective buyers and give them the information they need to make a decision about attending your open house.
If you're not sure where to start, don't worry. We've put together a collection of open house flyer templates that you can customize to fit your needs. Just choose a template, add your own details, and download or print your flyer in minutes.
With our easy-to-use design tools, you don't need any graphic design experience to create a professional open house flyer. So get started today and make sure your open house is a success!
For real estate open house event promotion, with these flyer templates, we have plenty of design products that might be more helpful to promoting your property and growing your business. check out the following listing.
Open House Design By Categories
Some Fascinating Open House Flyers
Below you will find some flyer example that has been given below the paragraph. choose the best one for your business without delay.
1. Real Estate Open House Flyer Template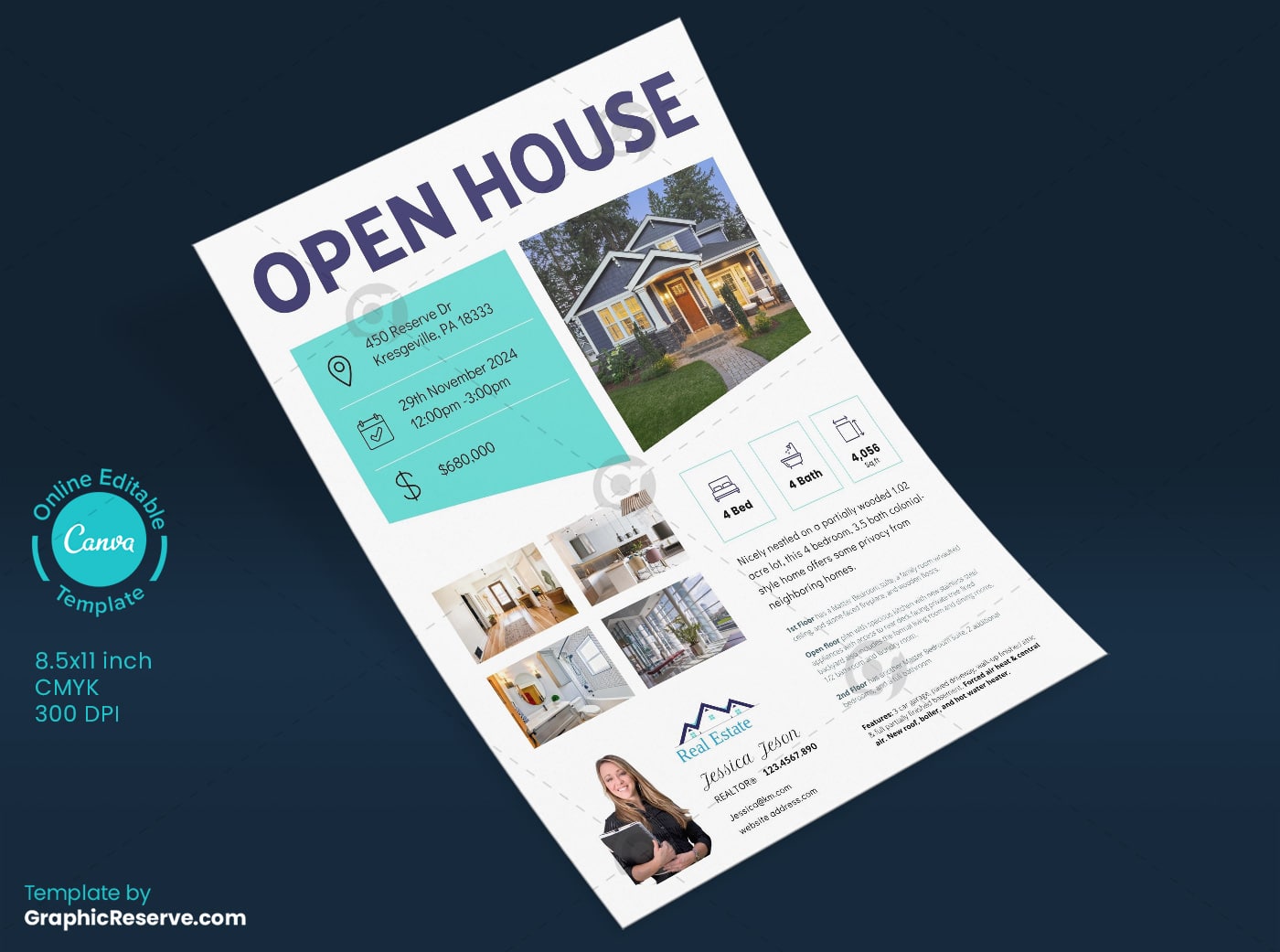 This real estate flyer template will be useful to promote the property and open house promotions. The template comes in 3 different flyer designs for promoting different types of property.
2. Four Image Real Estate Open House Flyer Template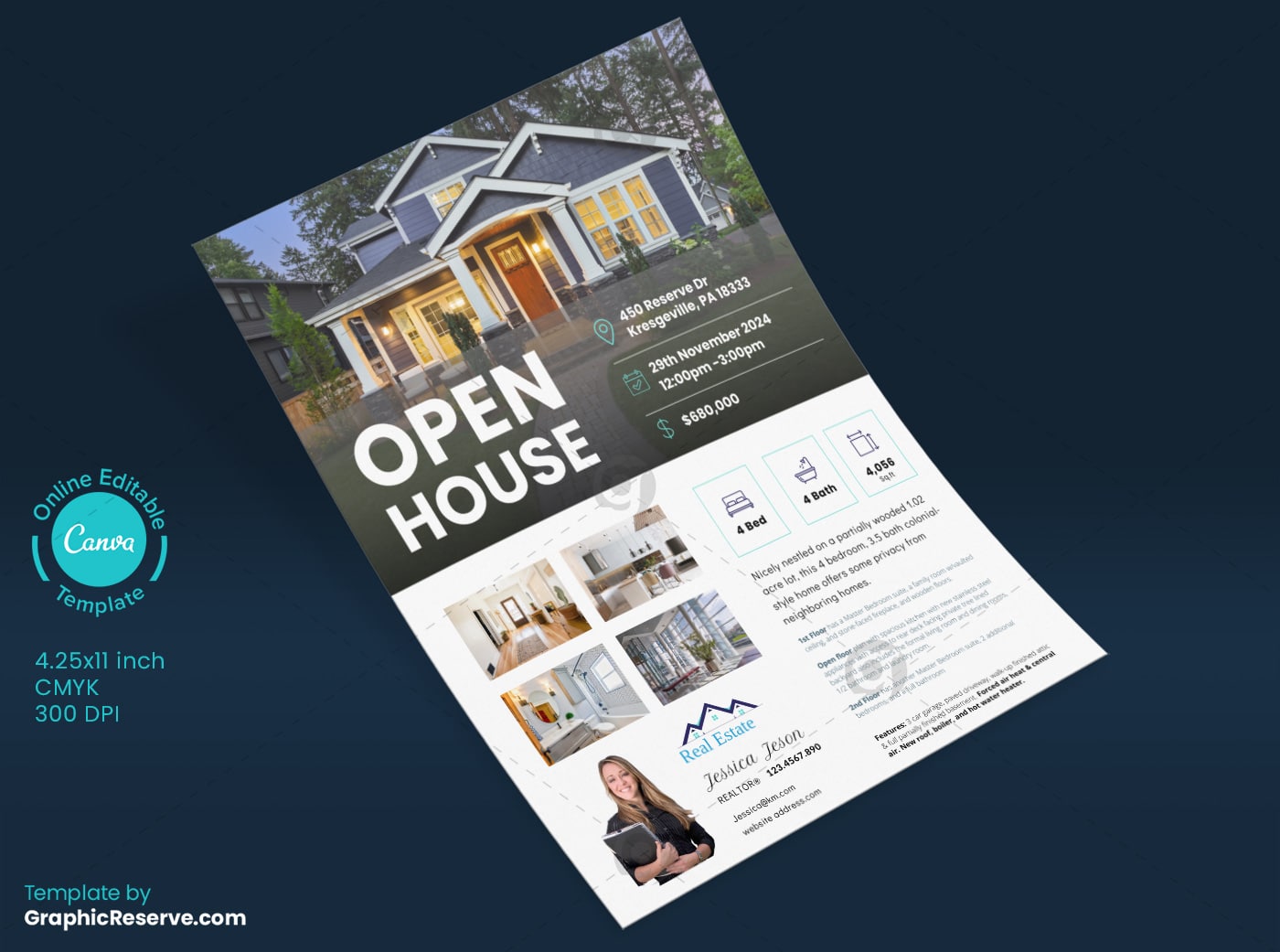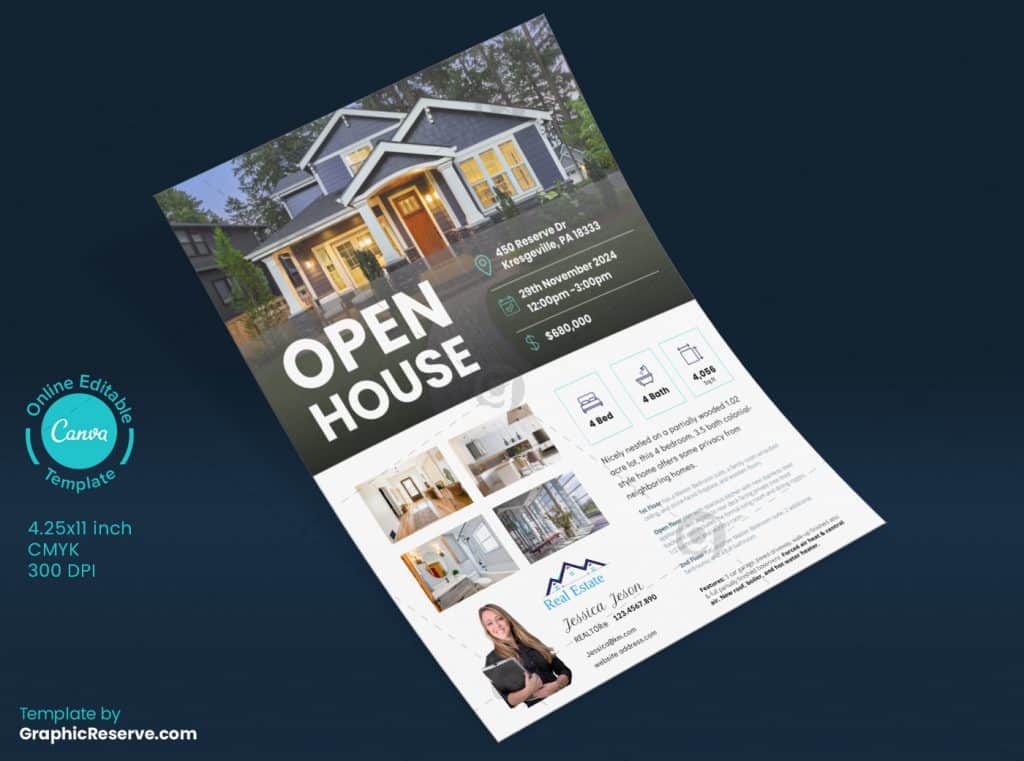 This real estate flyer template including four images is for the oriented buyer who will visit the website to find out more details. This is an easily editable real estate flyer template. You can use this to promote your property and agency.
3. Simple Real Estate Open House Flyer Example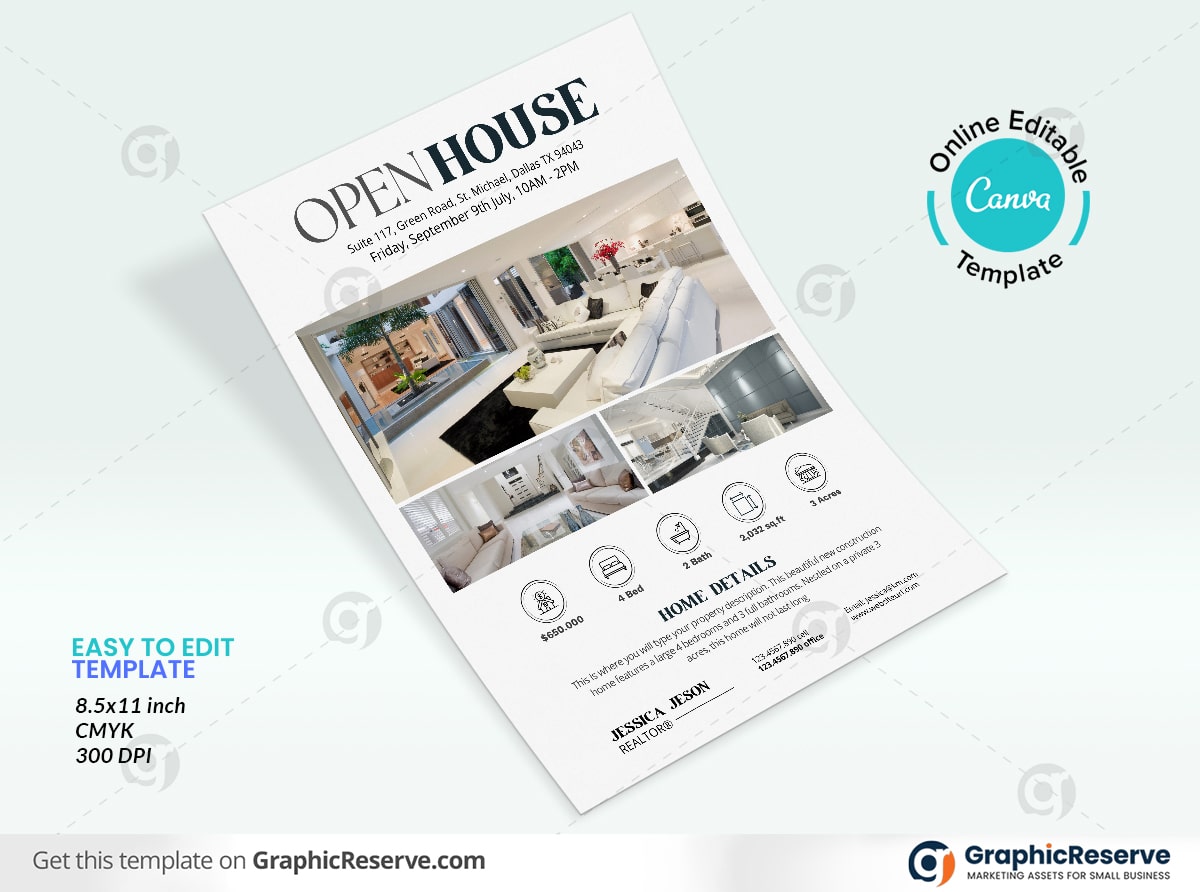 Featuring a professional layout design, this simple real estate flyer template permits you to easily create an effective flyer to promote your houses and apartments. You will be able to customize this template by using photoshop for changing its images, colors, and content arrangement. this template is organized in US letter size.
4. Open House Flyer Template PSD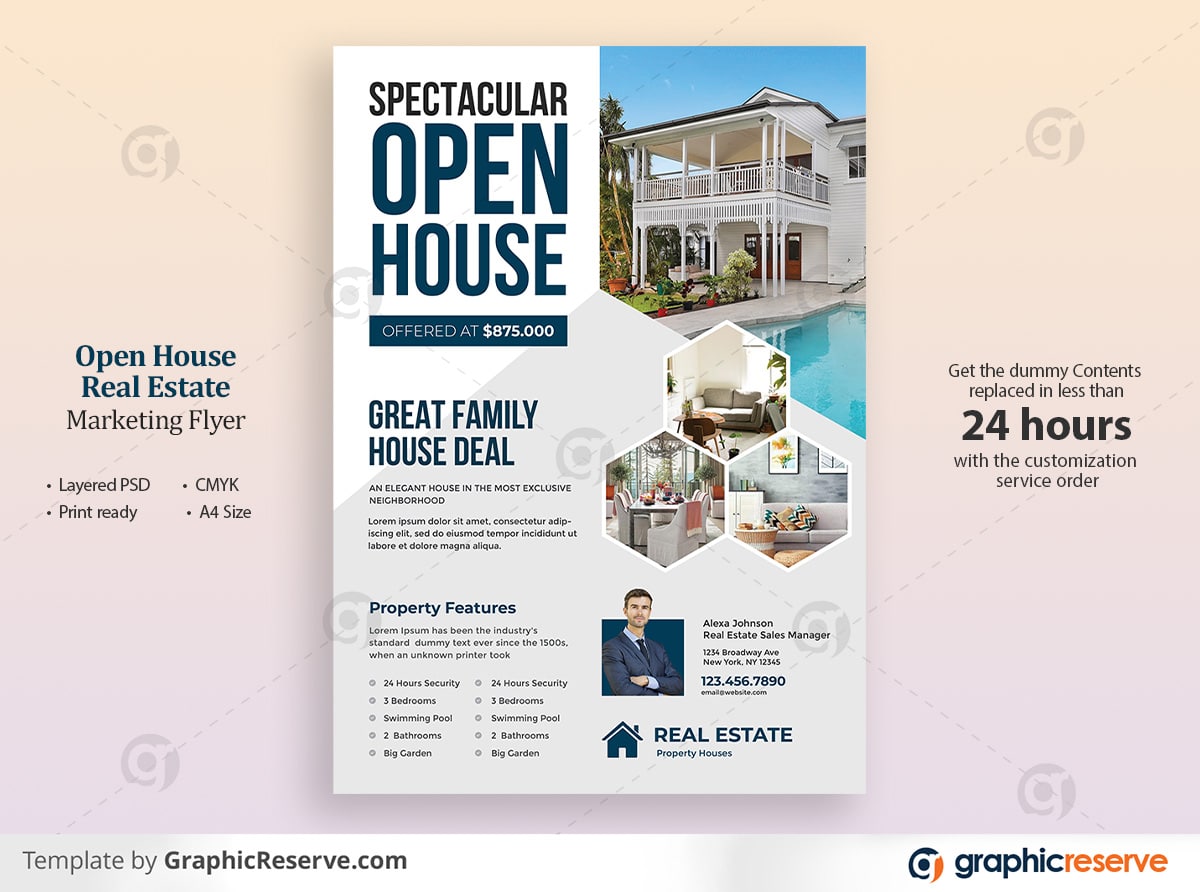 Another modern real estate open house flyer template is PSD design. This flyer has been designed for promoting flat and housing apartments. This template comes with four sections for adding multiple images of an apartment.
5. Living Open House Flyer Canva Template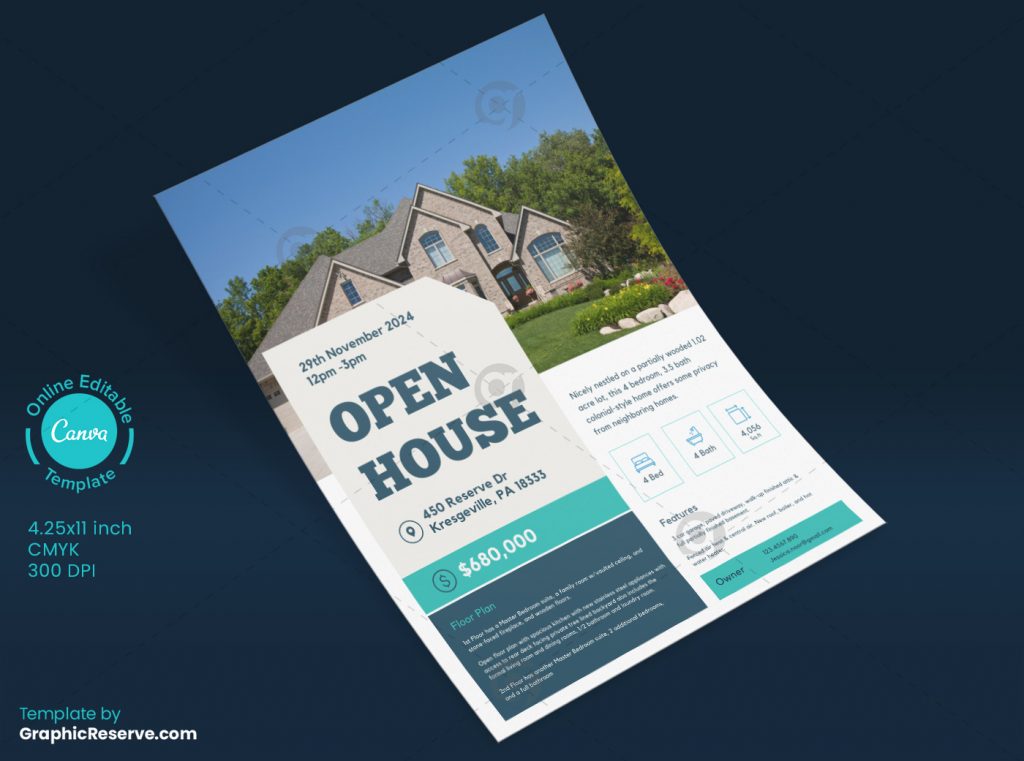 A minimal living real estate flyer template for promoting all kinds of real estate, including lands, property, apartments, and so on. This is a well-organized template for including a lot of details about your on-sale property.
6. Modern Real Estate Open House Flyer Template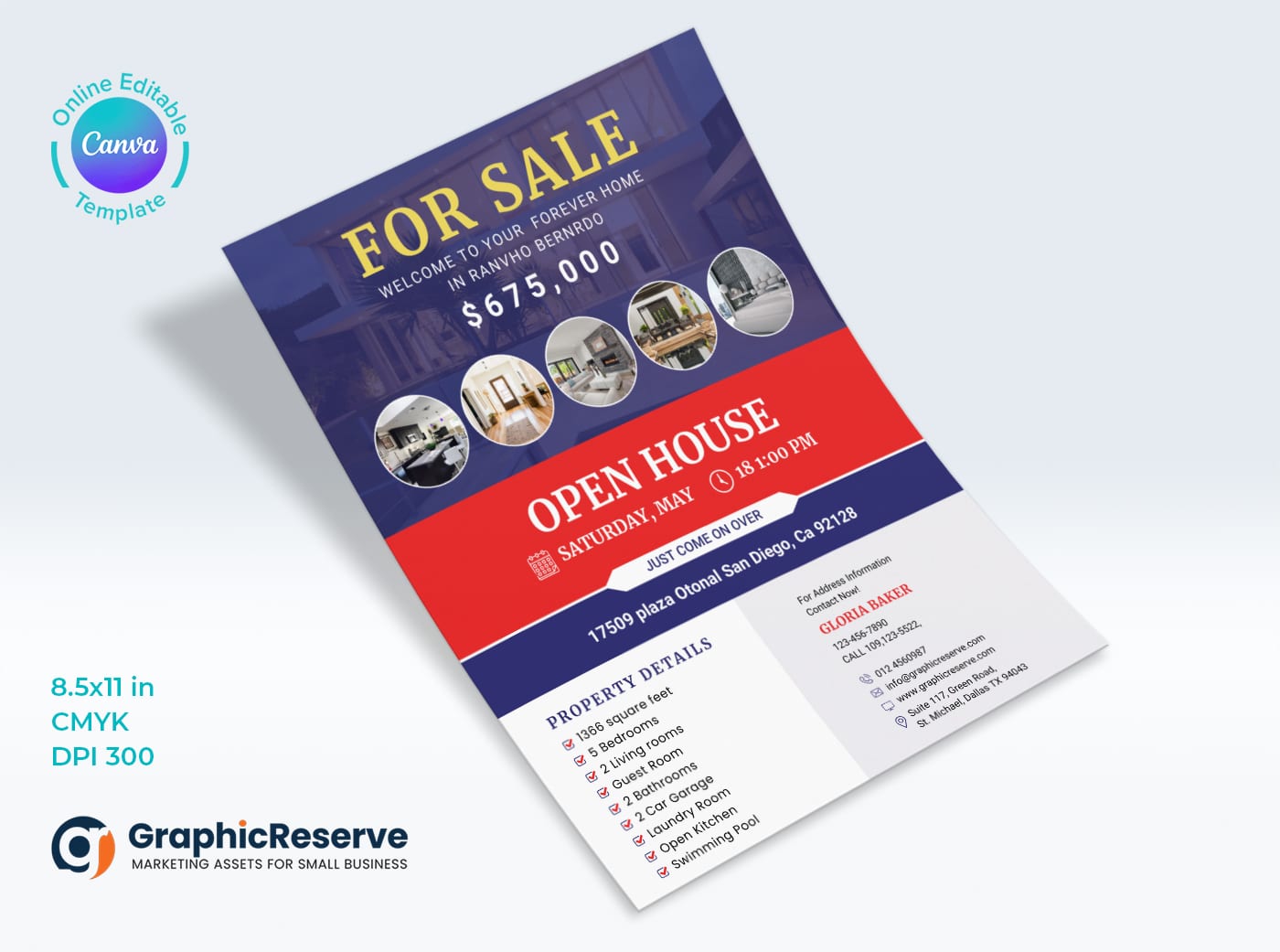 This modern for-sale real estate flyer template is flexible for customizing text, colors, and images. There is enough space on this template to add your property listing. So download your favorite template and customize it as early as possible.
7. Real Estate Open House Yard Sign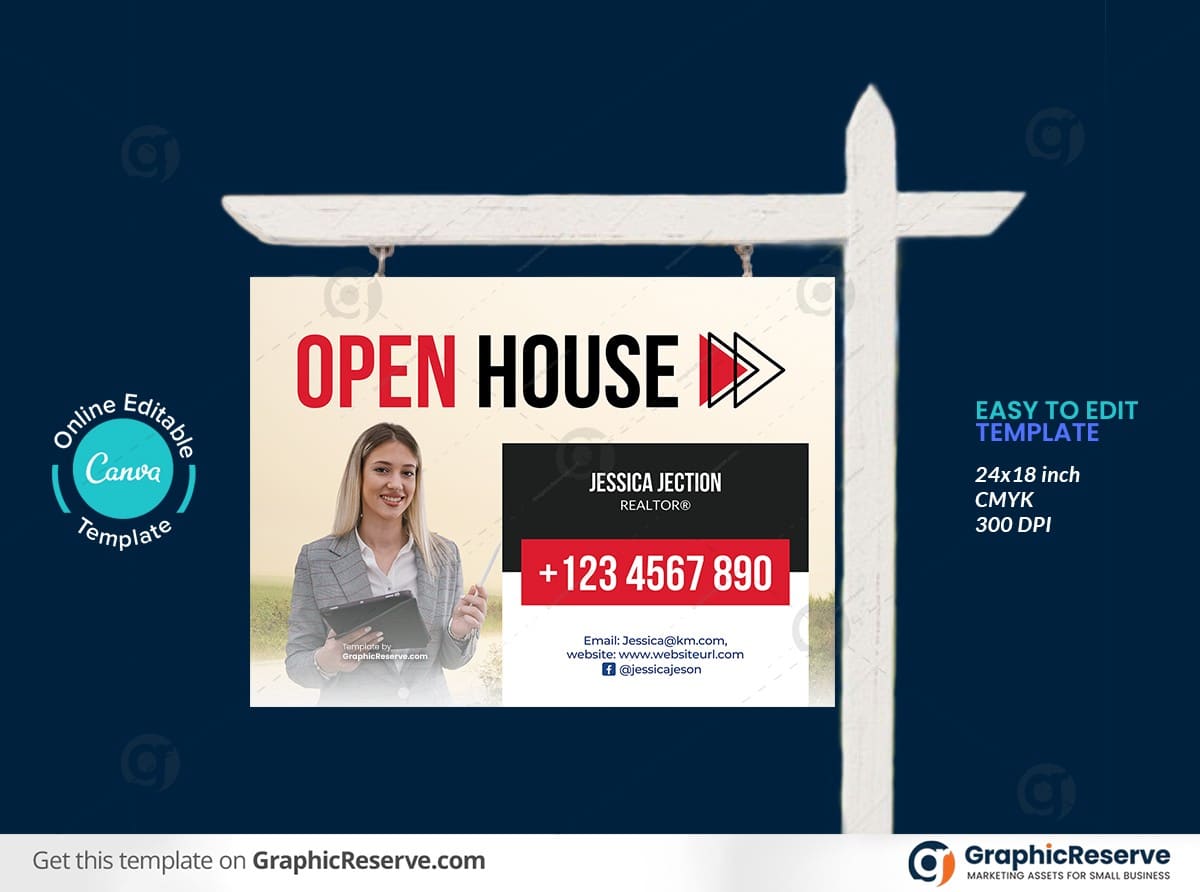 Real Estate real estate yard sign template can get buyers' attention abut bout the property open house day so they can visit and get ideas about the property. So they can get familiar with the features and pricing of the property. This real estate yard sign combines enough space for a description with bolded text that calls out selling points.
8. A4 Real Estate Open House Flyer Sample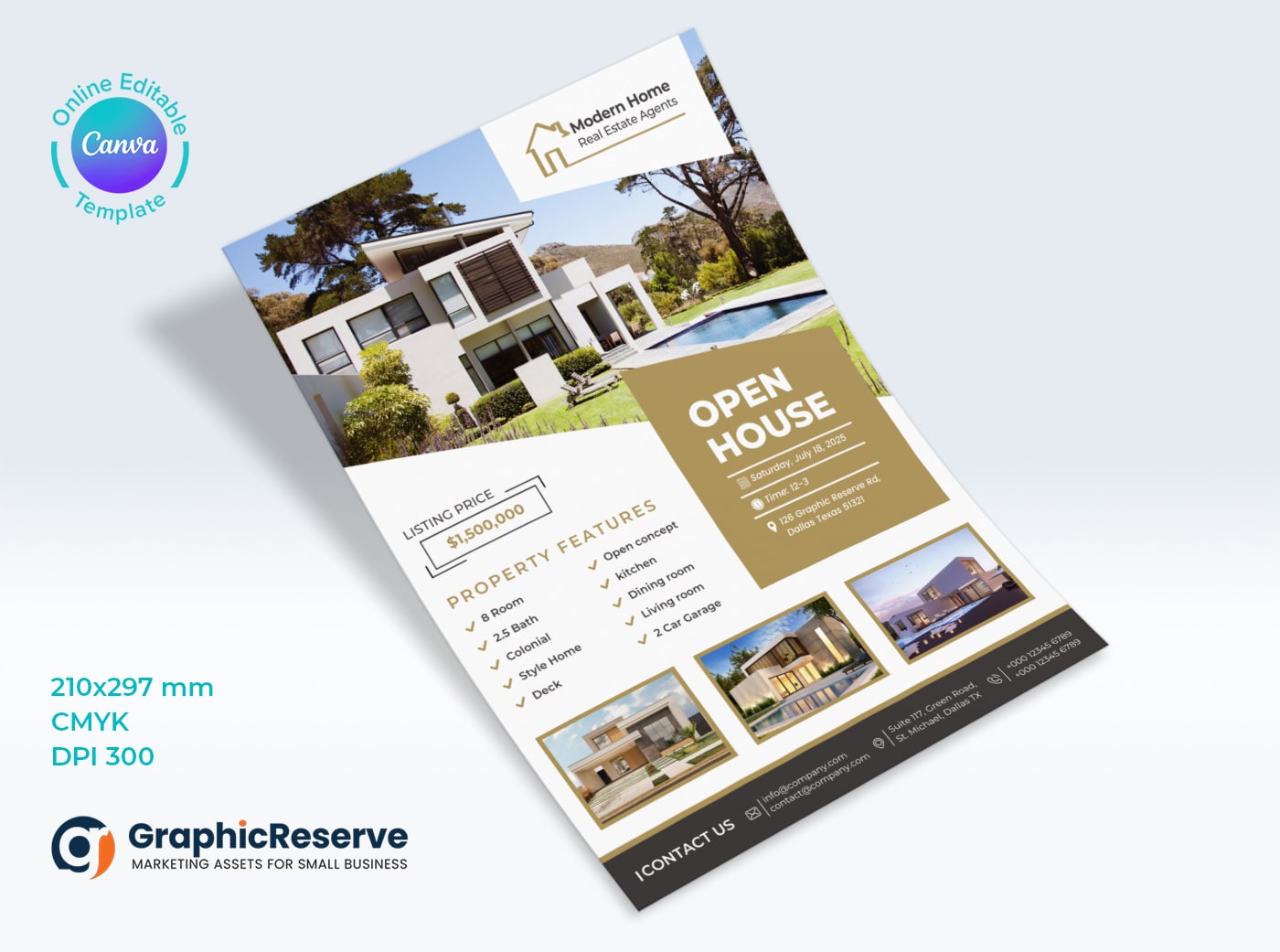 To focus on the brand of the brokerage and to promote your services these open house flyers are more useful and customizable. This design of this A4 real estate flyer template is consistent with what images are included to ensure any brand is well represented.
9. Simple and Minimal Open House Flyer Design Template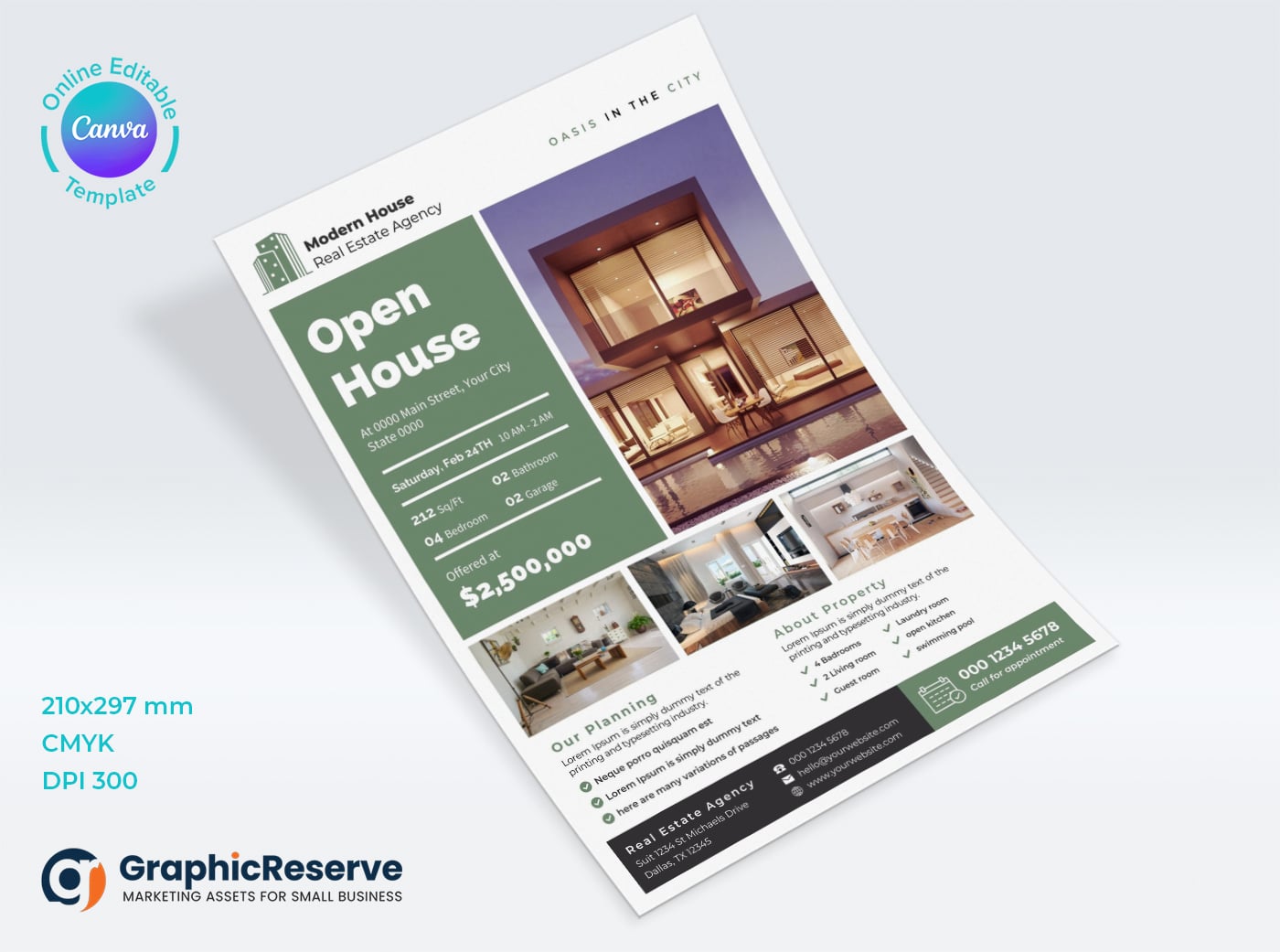 This elegant and modern real estate open house flyer templates comes with a modern design featuring stylish shapes and content design. This template includes 2 different color combinations.
10. Real Estate Broker Open House Yard Sign Design Template Download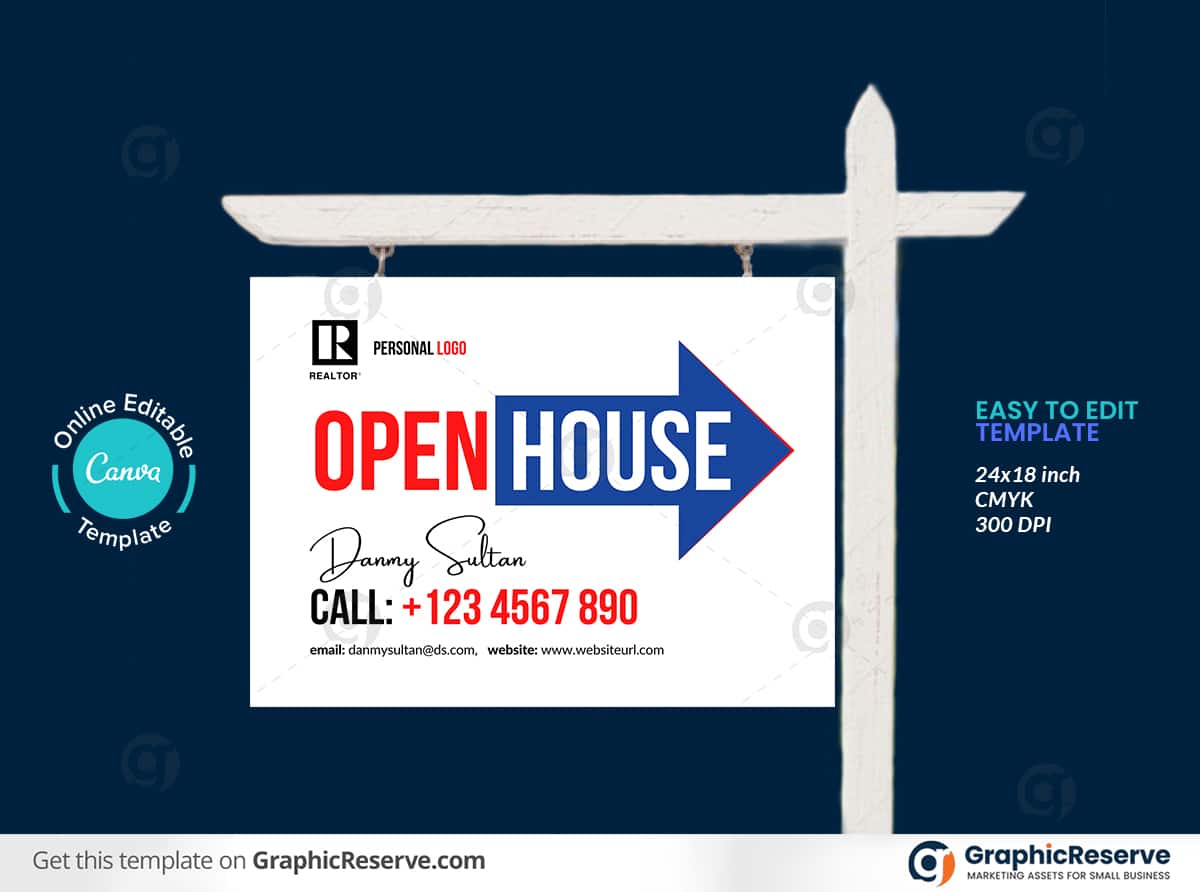 Modern Real Estate Flyer examples are a great tool for promoting your real estate business also useful for a realtor or a real estate agent. You can use it for real estate listings, advertising homes or property for sale, or houses for rent. Create a stunning leaflet on the fly and streamline your workflow with this easy-to-edit template.
EDDM Postcard Template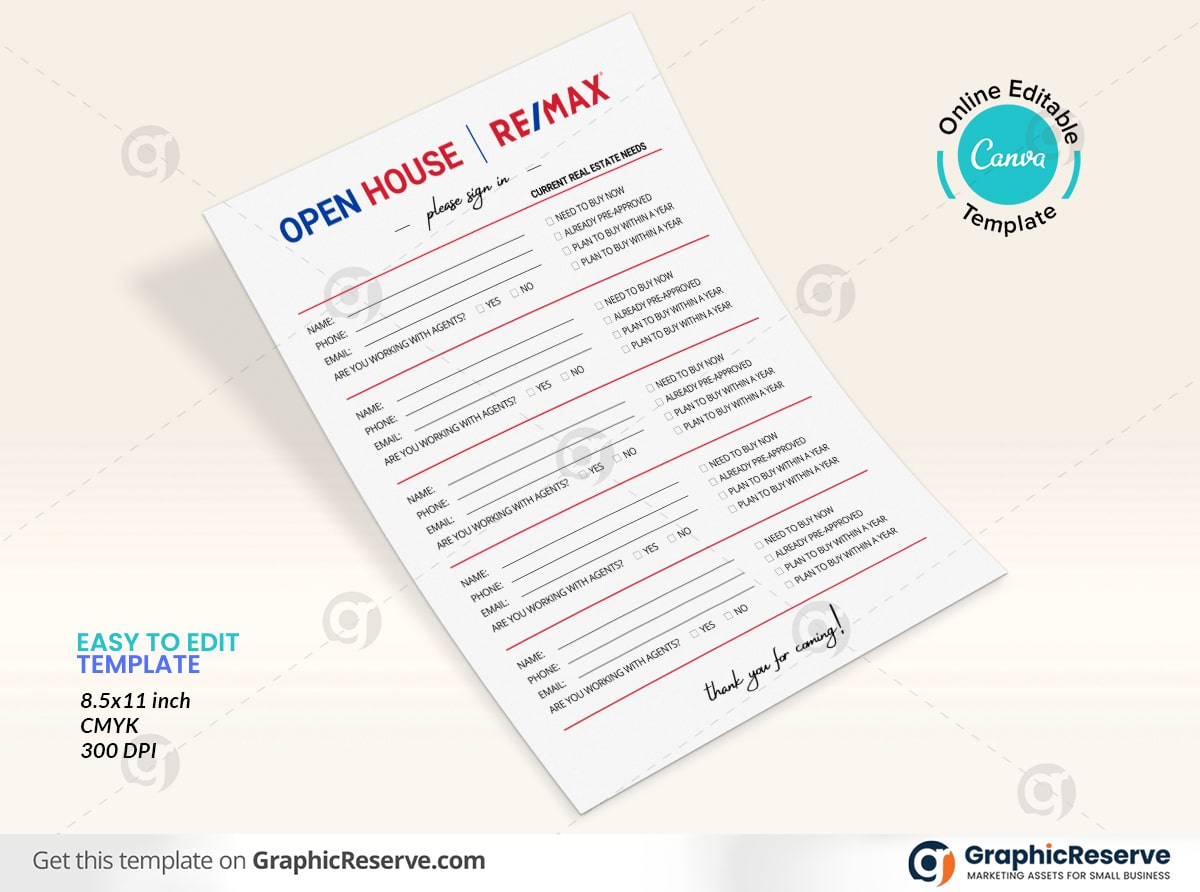 EDDM Template Design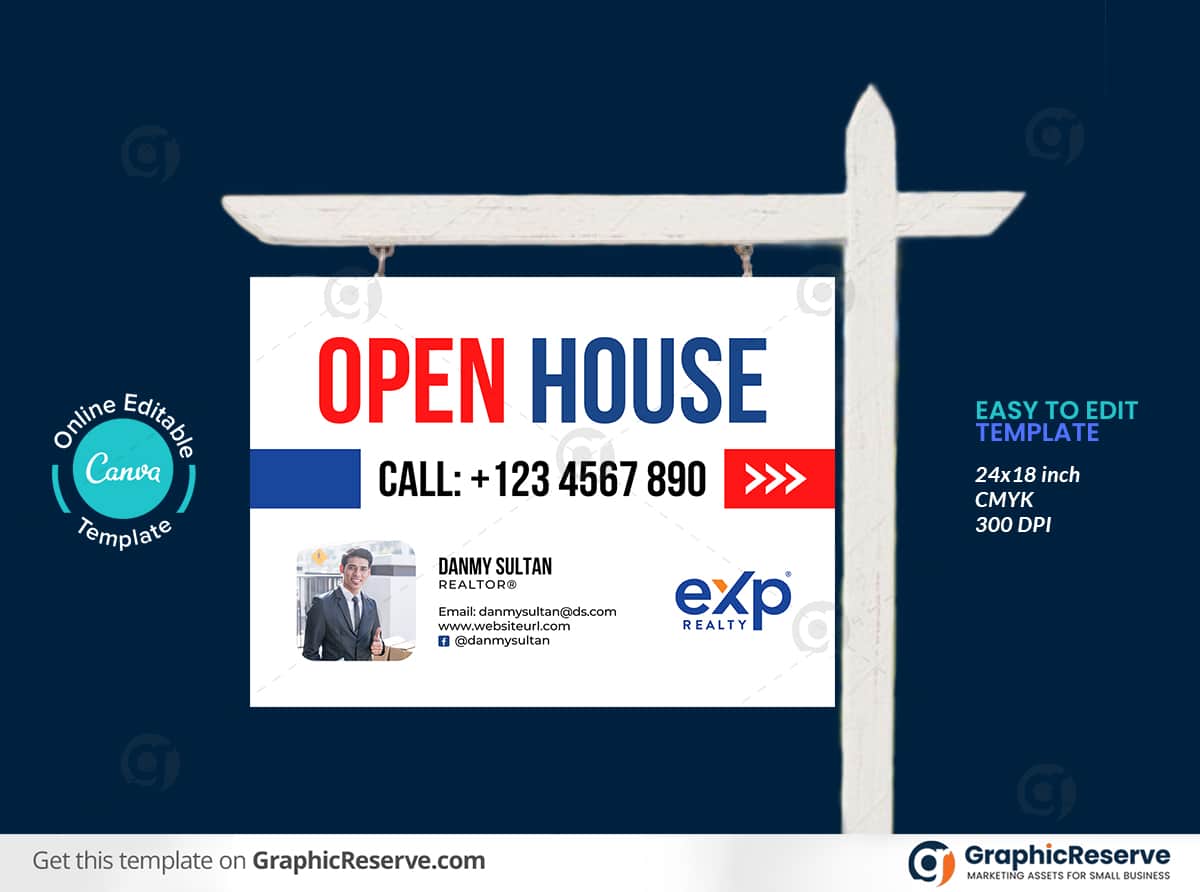 11. Modern Real Estate Open House Sign-In Sheet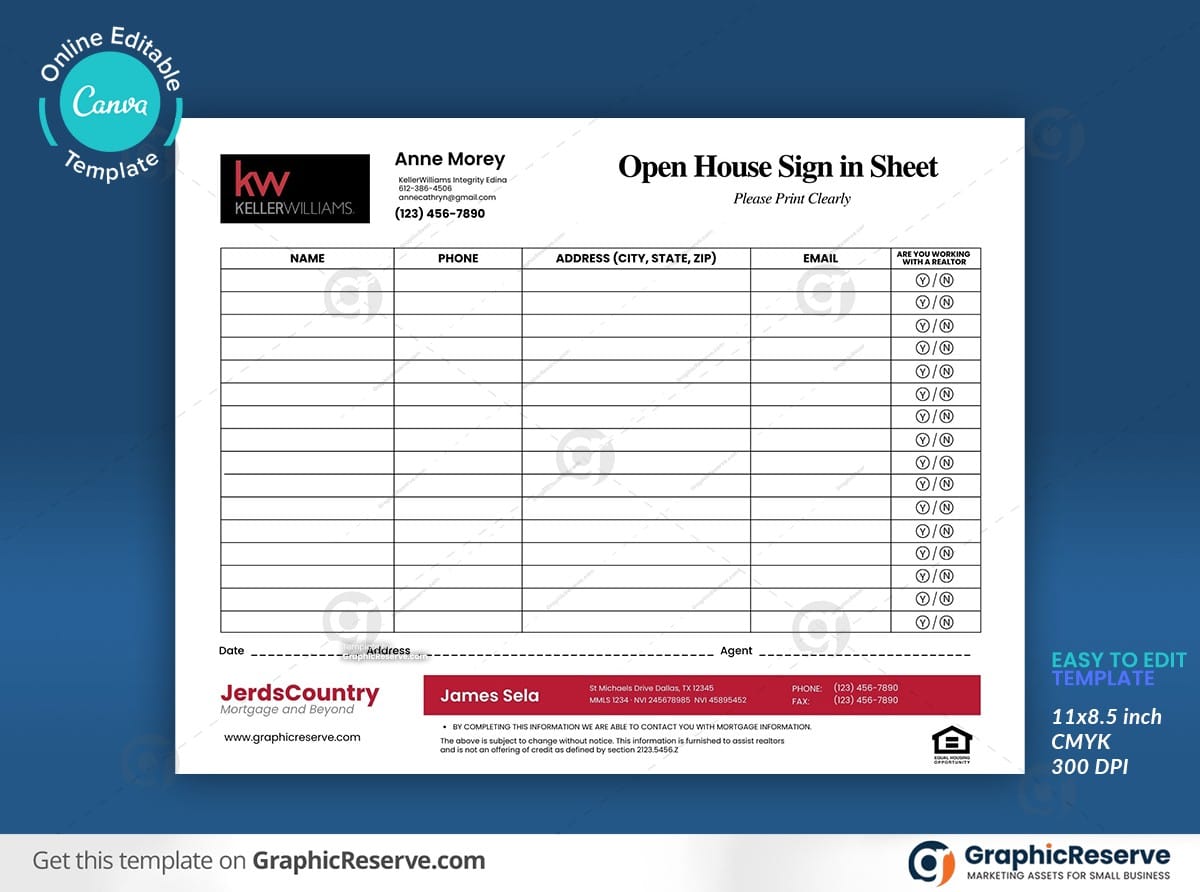 Killer Williams Sign In Sheet design sample/example/template. This open house sign-in sheet can be used for all real estate agencies. Easy to edit Illustrator file.
12. Open House Flyer Canva Template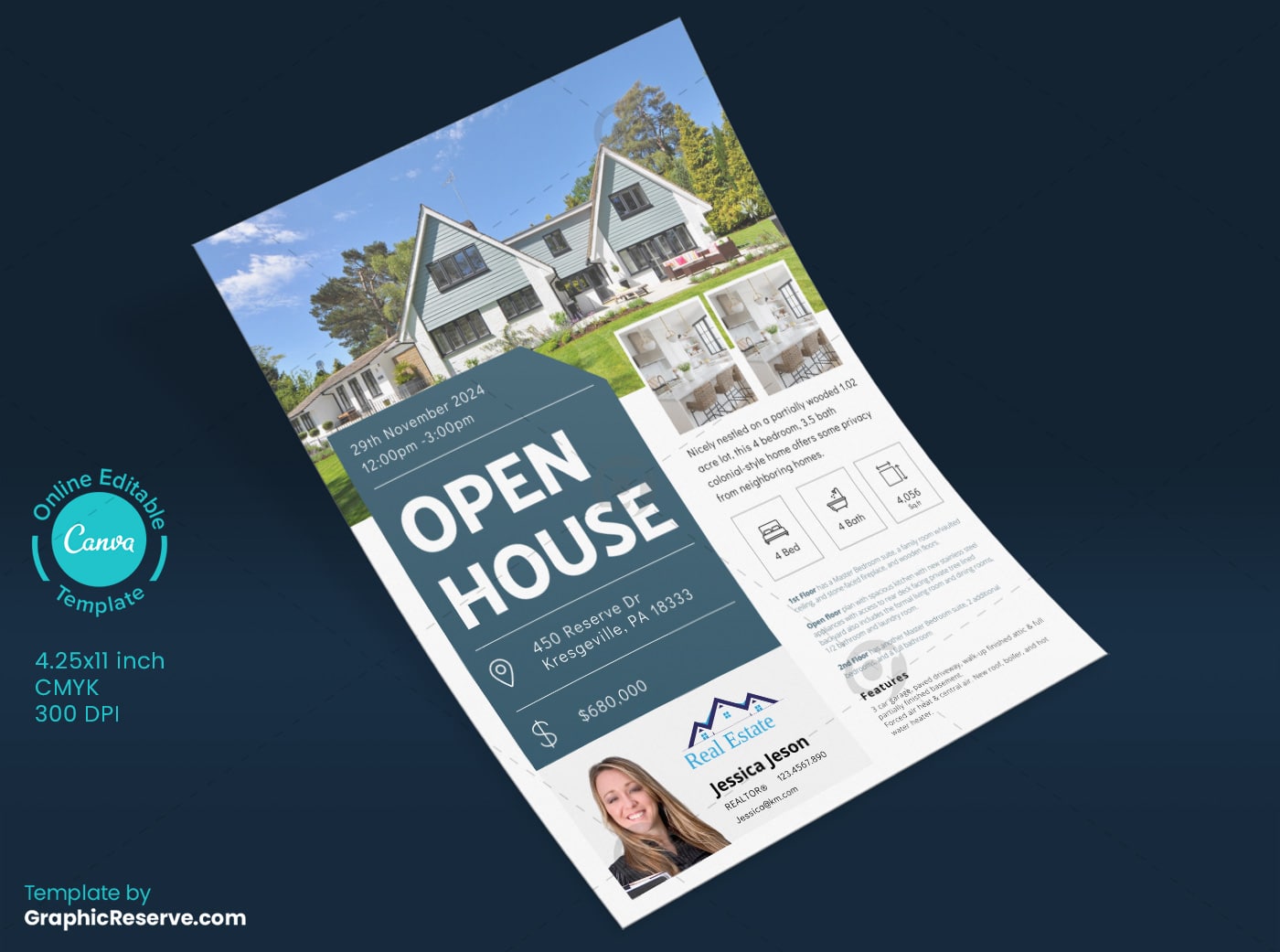 This modern real estate flyer template is easy to edit. You need to know the very basics of Photoshop to change the text and images then It will be print-ready!!
File Format: Canva Template
Size: 8.5 x 11 inch + bleed
Features: Print-ready 300 DPI CMYK Color Mode
Note: Canva Premium is required to use premium photos and resources.
Open House Door Hanger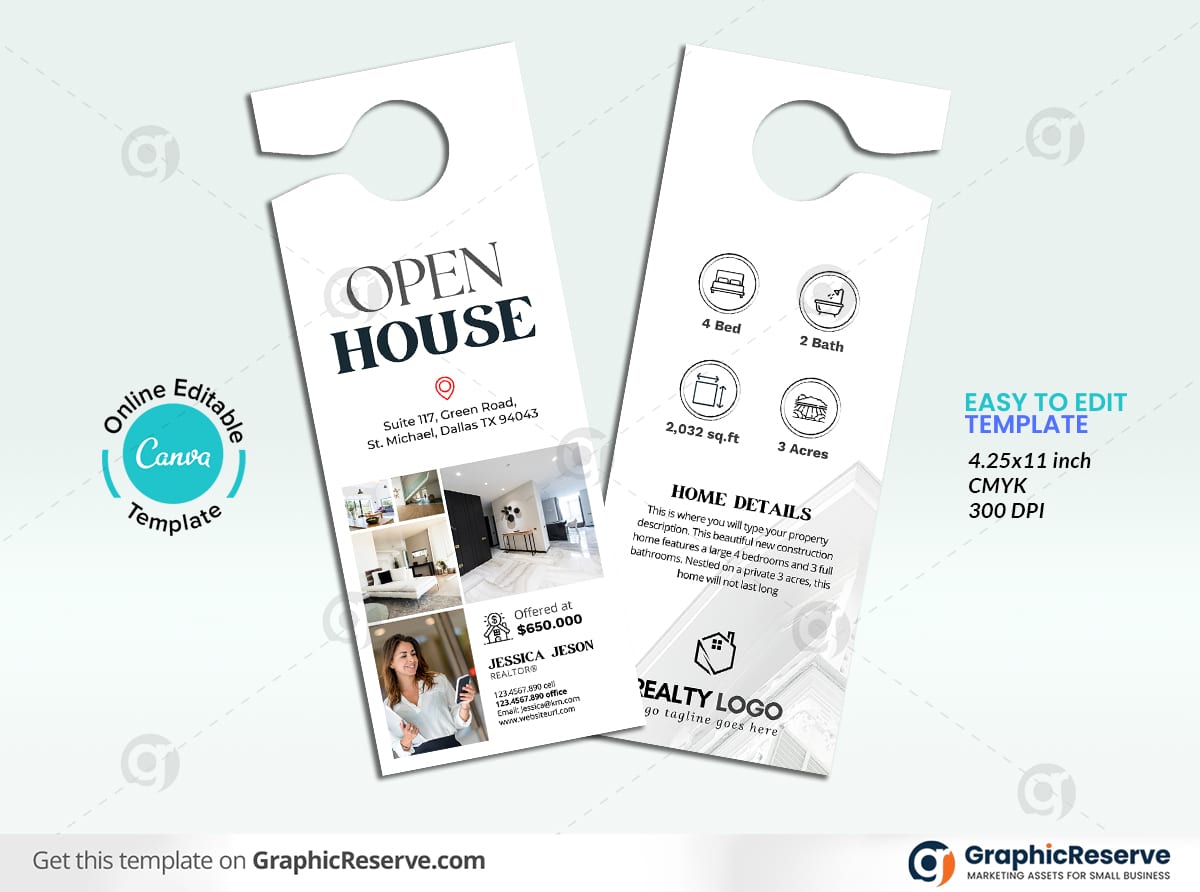 Open House Real Estate Door Hanger Design (Canva template)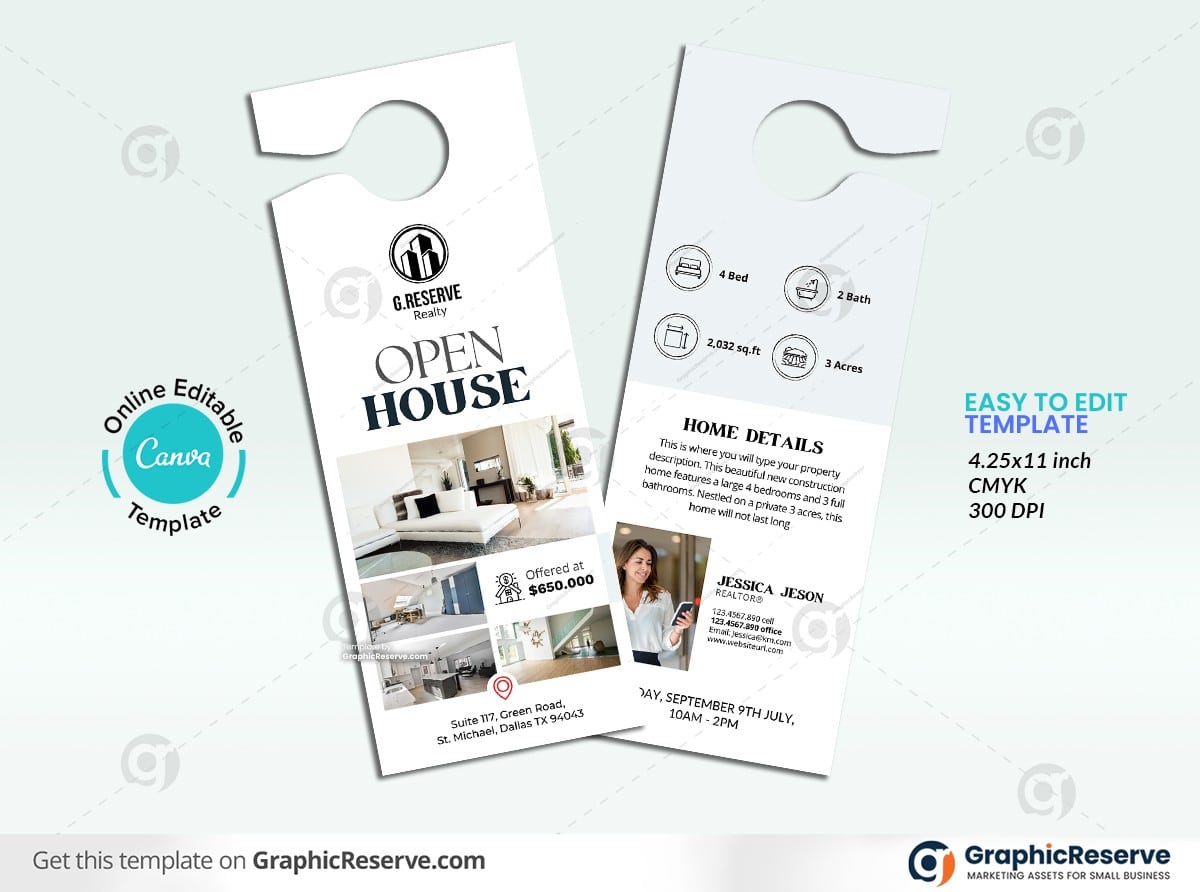 Open House Visitor Feedback Form (Canva template)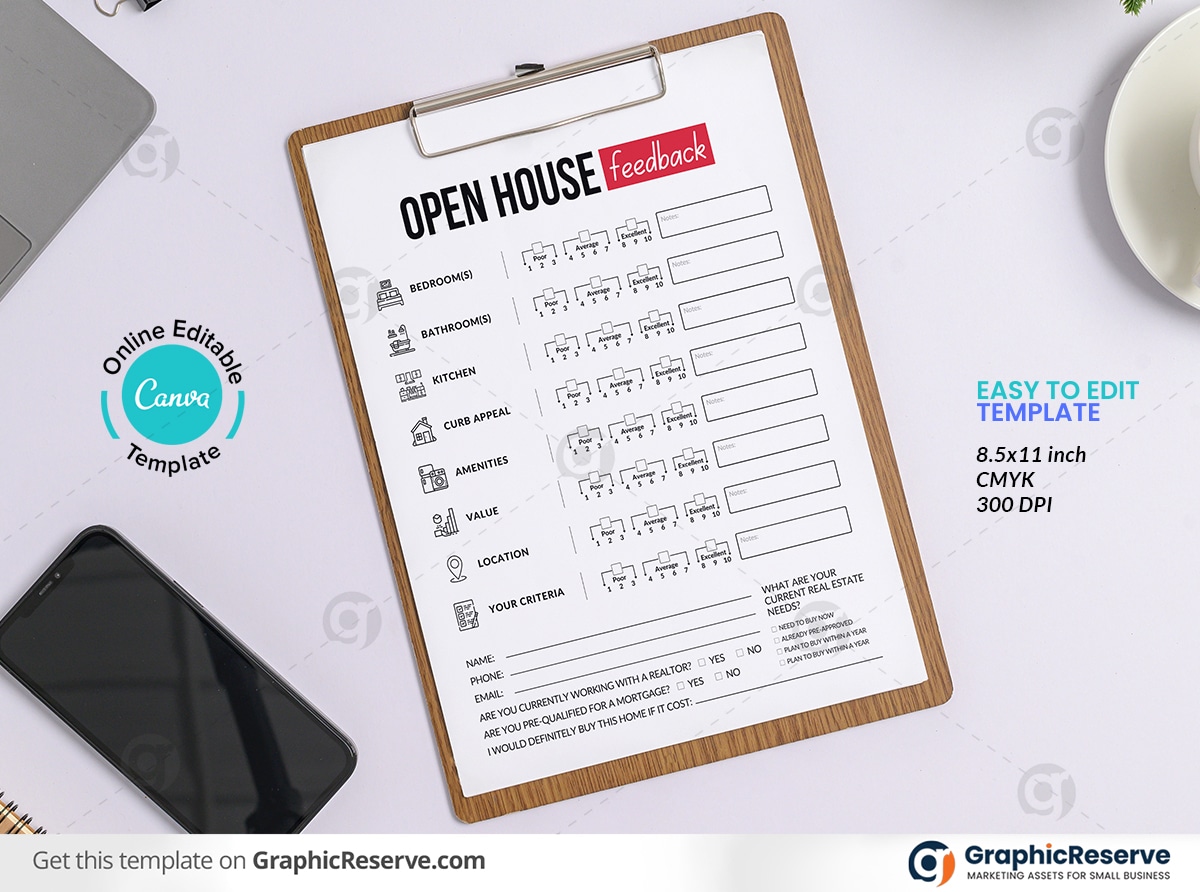 Real Estate Door Hanger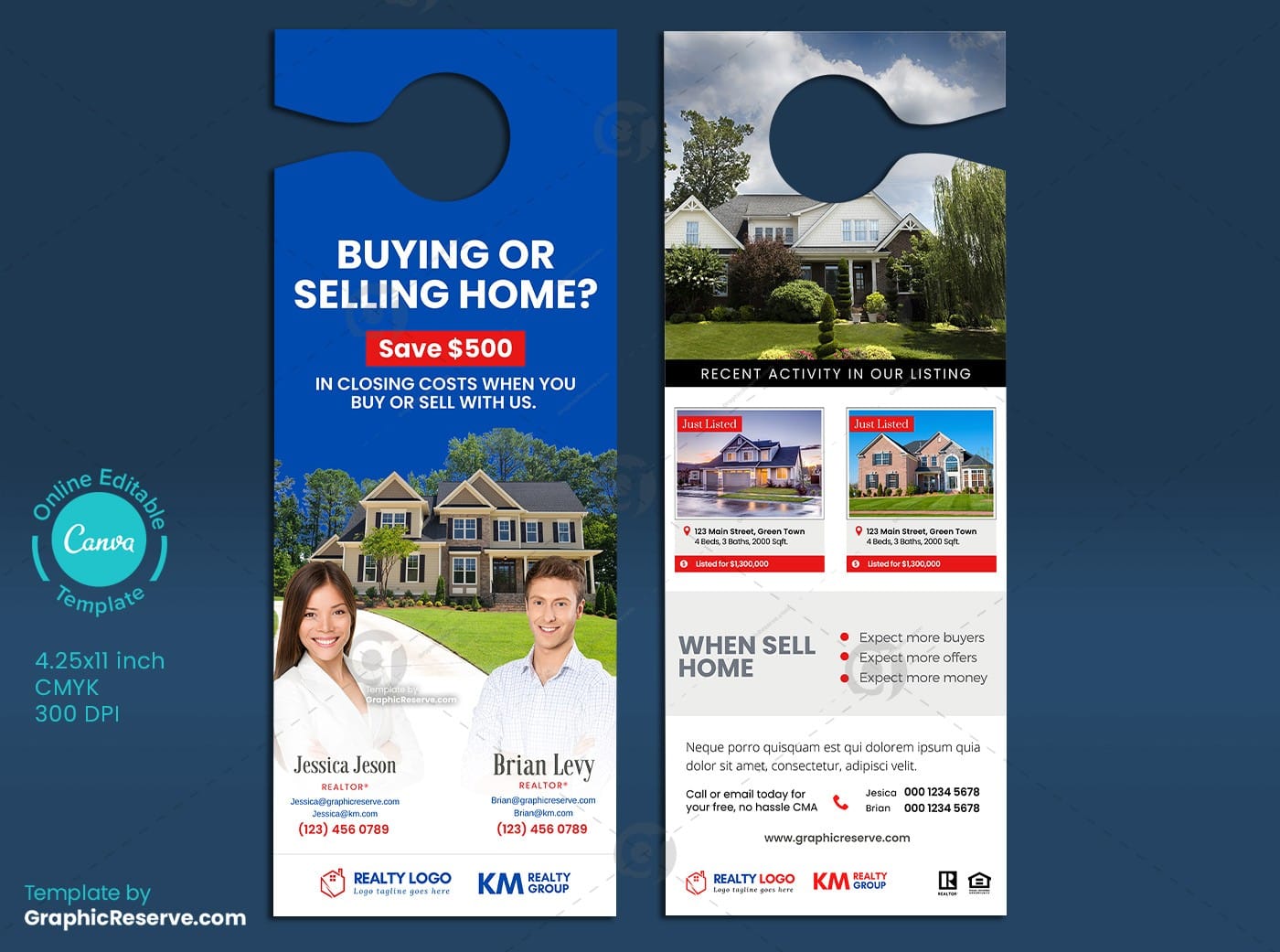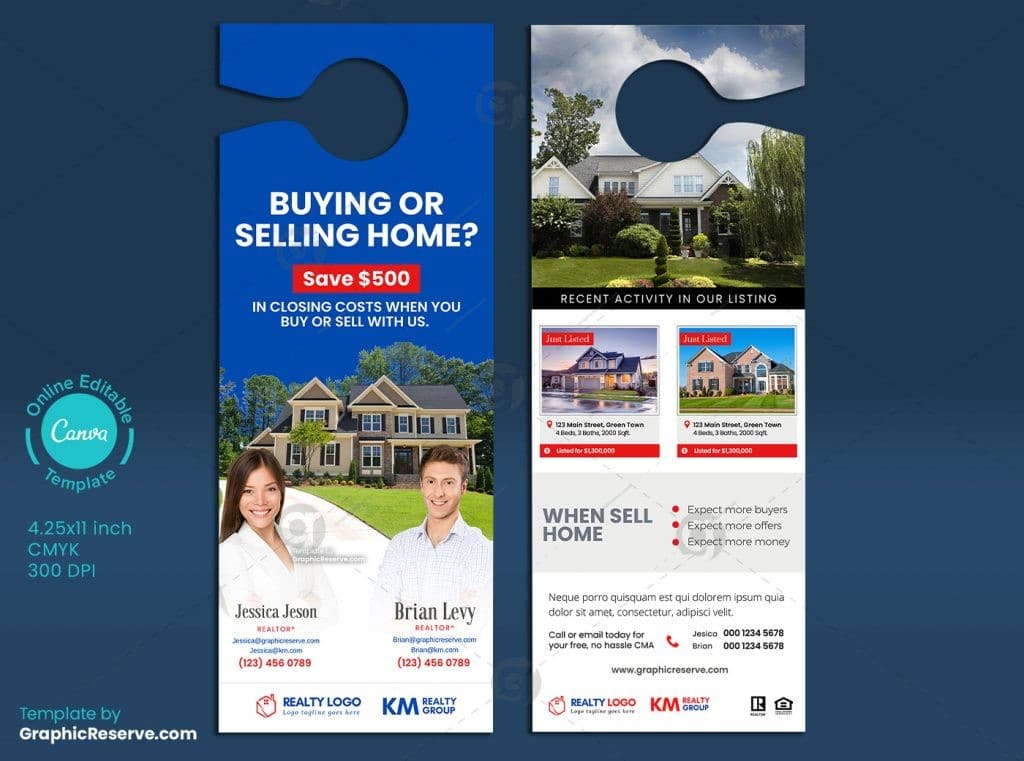 Open House Door Hanger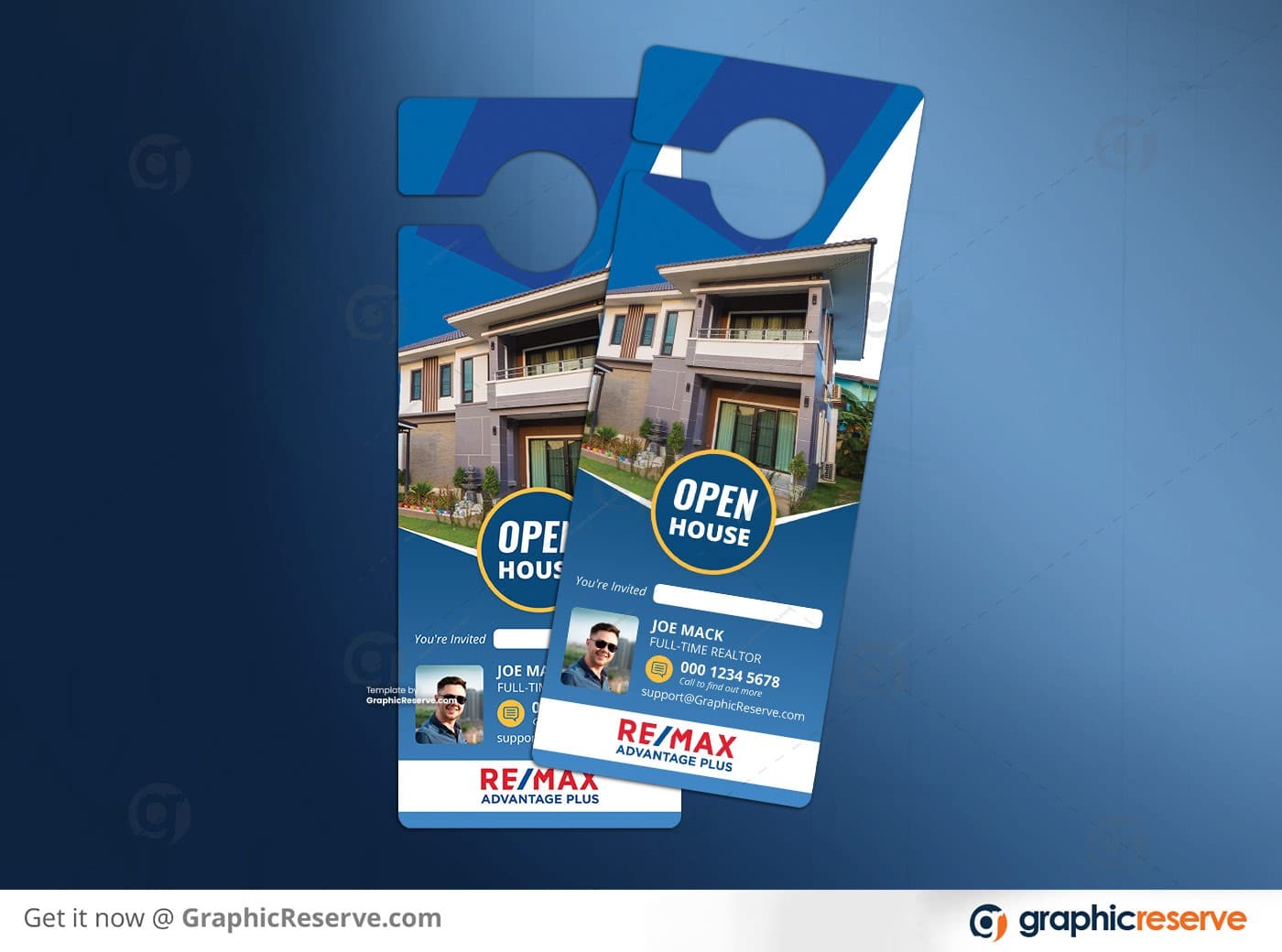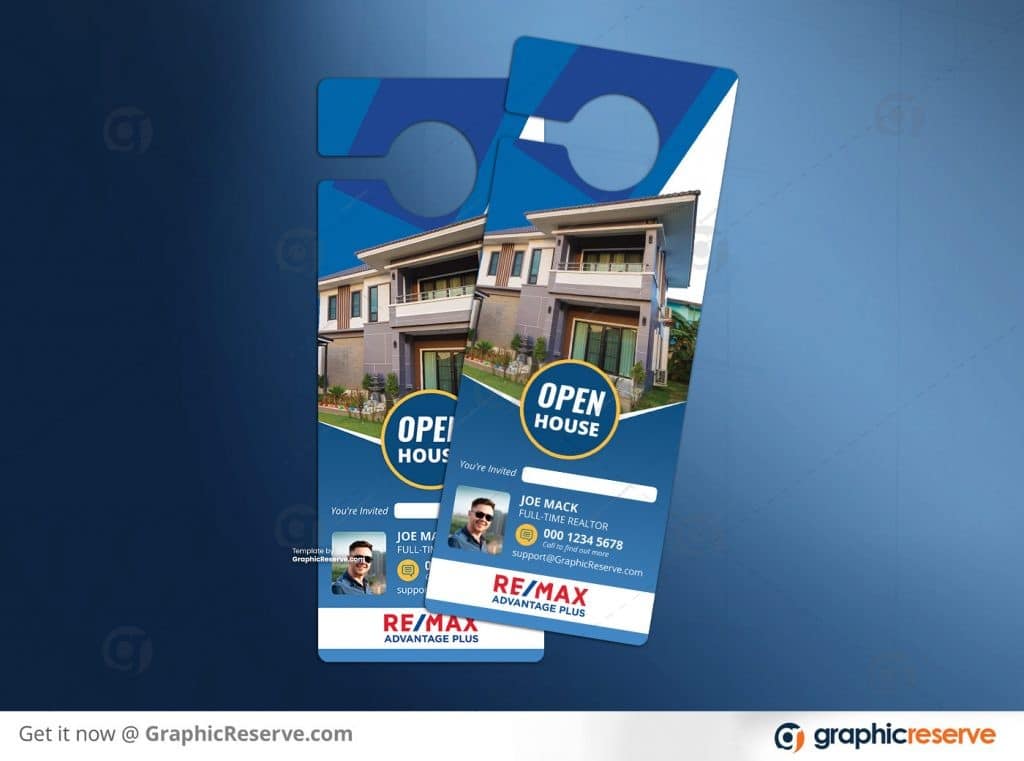 Open House Thank You Card (Canva template)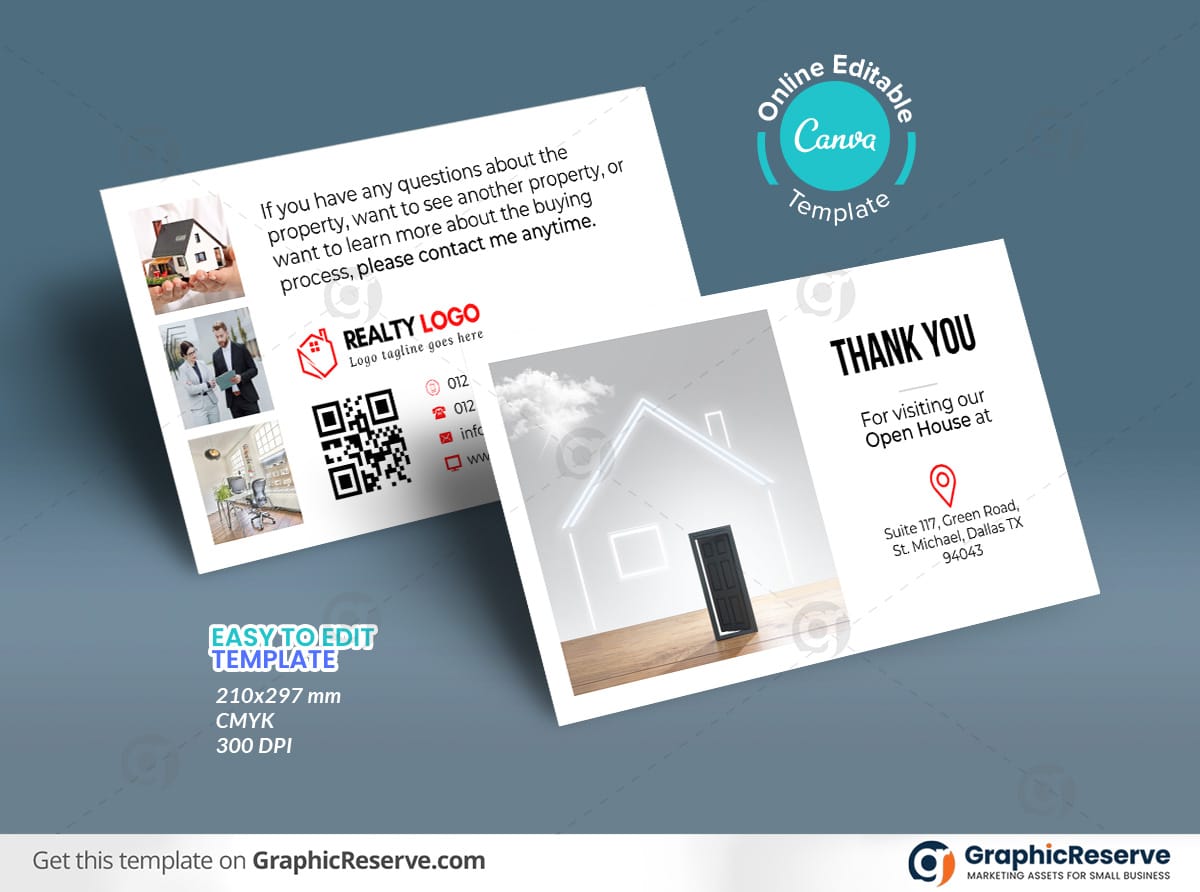 As you can see, those are the most important marketing material for real estate open house events. There is a great resource of real estate flyers on our site. You can visit our site and buy the flyer which one you like most. To grow your business, You must need marketing. To ensure marketing, there is no alternative to the real estate flyer template.
Tips and Tricks for Designing Open House Promotional Designs
If you are making your first home-for-sale flyer template, these techniques will be helpful to create your flyer template more beautiful and professional.
Include Large and Clean Images
Every open house real estate flyer template needs a quality image for spotlighting the design. However, many designers of recent times often use either bad photos or try to cram too many images into one flyer template.
As a professional real estate flyer designer, you can't make such a mistake. Include a maximum of 4 photos to display a listing. For high-resolution images, don't forget to hire a professional photographer.
Use Shapes to Stand Out
The open house market is a super-challenging industry. Thus, to stand out in this situation, you must think outside the box.
Meanwhile, Without using the same old model templates, try to use a design that is different from the rest. Make a template combined with creative shapes, icons, and colors to focus on images and text on your flyer designs.
Pick the Eligible Design Style
Open house flyer templates have a lot of design styles such as clean and simple designs, dark color themes, colorful designs, and so on. According to the demand of your targeted audience, you have to pick the colors and theme for your flyer template.

A dark color theme is eligible for promoting luxury properties while a simple design is the best for displaying flats, apartments, and houses.

Write Short And Simple Sentences
The copy you added in the flyer template can play a vital role in selling the product and getting the people interested in the listing.
Writing a short and precise sentence to avoid confusion is a professional marketing strategy. Technical and powerful words are great effective to grab consumers' attention.
Focus on the Important Sections
Don't forget to highlight the most significant section of your real estate open house flyers.
It may include the title, which mentions the types of property you selling or leasing, location, price, and contact information.
Use eye-catching colors and shapes in this section to grab people's attention.
Recent Posts